Every week we ask an interesting figure what they're digging into. Have ideas who we should reach out to? Let it fly: info@seattlereviewofbooks.com. Want to read more? Check out the archives.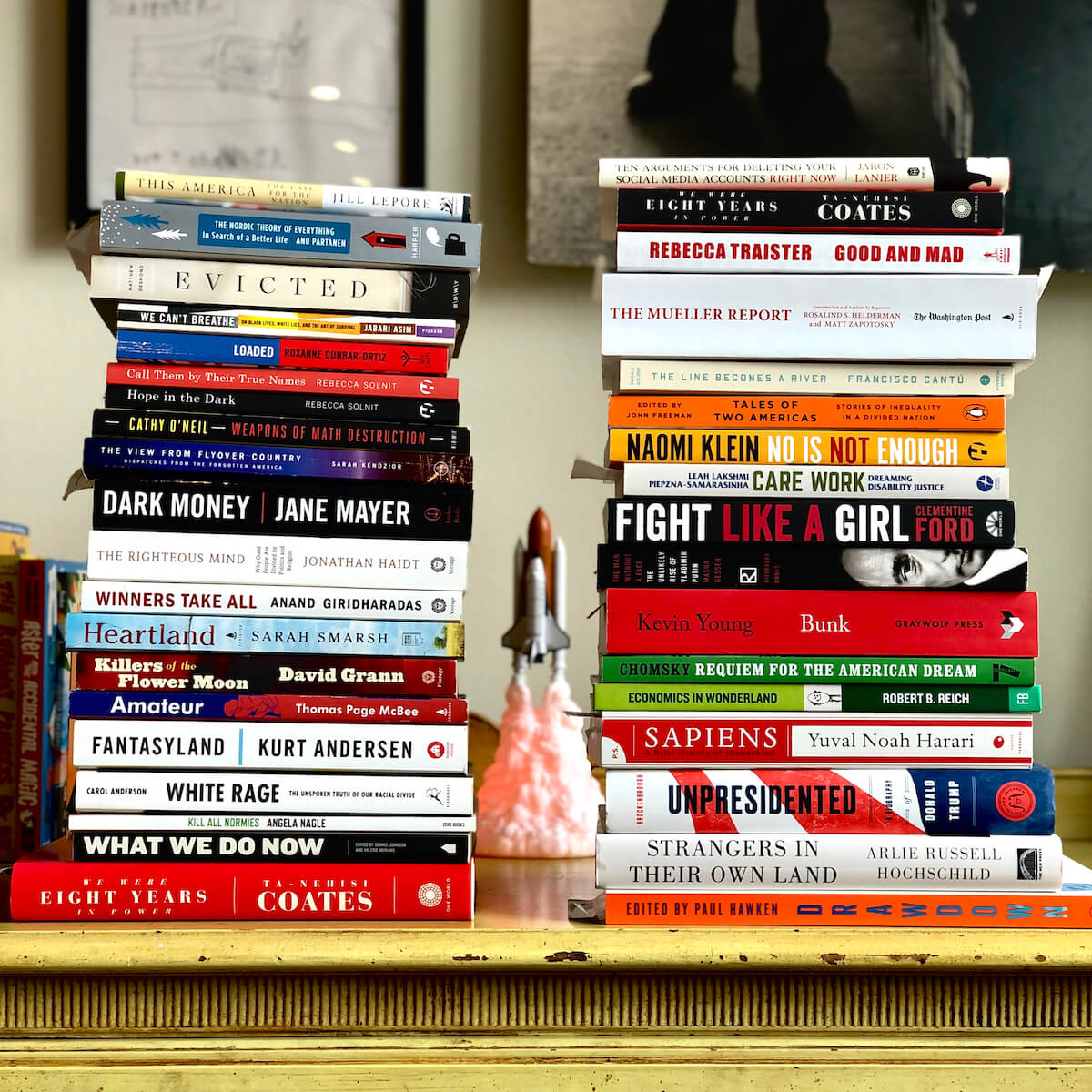 Reading Through It is the book club that the Seattle Review of Books started in 2016 directly after the election of Donald Trump to president of the United States. We started it with Mark Baumgarten, then of the Seattle Weekly, and parterned with Third Place Books in Seward Park. Last week was the final Reading Through It lead by the Seattle Review of Books, but the group will continue under the leadership of the wonderful South Seattle Emerald.
For over three years, over 40 books, we tried to understand the cultural moment that lead us to elect such an incompentent, boorish, narcissistic, racist, unprepared and underserving man to lead our country. We covered racism, class, technology, environmentalism, sexism, hoaxes, economics, trans issues, and sociology. Did we learn? I did. I can't say we ever squared the circle, but we sure did a lot of filing on it. I want to thank everybody who came and talked, and sought answers with us. There were some startling good discussions, laughs, and every month, community. That was one way we found to fight back.
What did you read last?
2016
December: Hillbilly Elegy, by JD Vance.

Here's the wrap-up (look at that photo of everybody who showed up!), and here's our review: Being uncomfortable with the privilege you are draped in on doesn't make the cloth any less luxurious."
2017
2018
2019
January: Fight Like a Girl, by Clementine Ford.

There was no wrap-up for this book.





February: We Can't Breathe: On Black Lives, White Lies, and the Art of Survival, by Jabari Asim.

Here's our wrap-up. "There was much to discuss in Asim's book. The essays are not just gorgeously written; Asim placed them perfectly in relation to each other. The first essay is about the importance of truth and the lies people tell; it immediately framed Asim as someone who cares deeply about honesty. The second essay is about the pleasures of strutting, of feeling comfortable and happy in your own body, and the joy that Asim takes in lyrically describing his own tendency to strut is infectious. "

March: Unpresidented, by Martha Brockenbrough. Martha was kind enough to join us for this discussion.

Here's our interview with her from before the group met. "But if you look at it another way, not a lot of stuff has changed with Trump — not since he was a little boy writing poems about winning at baseball and loving the cheers of crowds. I wanted to set up patterns: his father's business practices, his business practices, his grandfather. I wanted to identify the patterns and see what those told me about Trump and the things that drive him. Once you do that and identify the fact that here's a guy who's long been entangled with Russia, here's a guy who's long broken the law and cut corners with business — once you establish those patterns, then all the breaking news headlines are frankly more of the same. "

April: Care Work: Dreaming Disability Justice, by Leah Lakshmi Piepzna-Samarasinha.

Here's our wrap-up. "Many members of our book club felt overwhelmed by Care Work. That's understandable — the book is a collection of essays intended for a few different audiences — in one piece, Piepzna-Samarasinha is talking directly to other disabled activists, in another she's aimed at a more general audience. Someone at the book club said that Care Work was the equivalent of taking a 301-level course without taking the 101-level first. "

May: Bunk: The Rise of Hoaxes, Humbug, Plagiarists, Phonies, Post-Facts, and Fake News, by Kevin Young.

Here's our wrap-up. "One of the best observations at last night's book club was the recognition that a simple lie isn't enough to make something a hoax. It's not enough to spread falsehoods to make a true hoax: you have to generate a mistrust in the truth, too. By creating an atmosphere in which everything could be false, the most confident liar gets to dictate the reality. It worked for Barnum, and it has worked thus far for Donald Trump. "

June: The Mueller Report.

Here's our wrap-up. "As the world saw in his quietly outraged public appearance last month, Mueller has a profound sense of right and wrong, but even his G-Man morality is nothing compared to his devotion to the law. Mueller announced that he could not indict a sitting president, and that he would have cleared the president of indictable offenses if he could. The inference, of course, is that President Trump committed indictable offenses, but Mueller is bound by duty to not say that out loud. "

July: Amateur: A Reckoning with Gender, Identity, and Masculinity, by Thomas Page McBee.

There was no wrap-up for this book.





August: The Best We Could Do, by Thi Bui.

Here's our wrap-up, and here's our review "Best is a refugee story, a story of war and suffering and hope. Bui narrates as her family flees Vietnam and makes their way to America. Her parents aren't heroes — her father is a downright cruel parent, subjecting his kids to fear and confusion. But Bui's compassion for him allows her to find a path toward, if not acceptance, then at least understanding. "

September: This America: The Case for the Nation, by Jill Lapore.

Here's our wrap-up. "But patriotism used as a weapon isn't true patriotism. Unlike the hatred of nationalism, patriotism is a positive force — a common understanding of who we are and where we're going. Is it even possible to bring together Americans under the guise of patriotism anymore? Would a reinstatement of a robust civics curriculum help, or perhaps two years of mandatory community service for all young Americans? Is there any way to restore something we can all experience in these hyper-personalized times? "

October: Drawdown: The most Comprehensive Plan Ever Proposed To Reverse Global Warming, edited by Paul Hawken.

Here's our wrap-up. "One of the most interesting avenues of discussion had to do with the way that the book centered white men — it's edited by a man, and it features essays largely by men, and the chapter on how policies benefitting women could help the environment mostly consisted of reproductive rights, as though bearing children is the only value women possess. Thunberg has helped decentralize the conversation from a masculine frame, and so Drawdown already feels regressive, though it was only published last year. "

November: Heartland: A Memoir of Working Hard and Being Broke in the Richest Country on Earth, by Sarah Smarsh.

Here's our wrap-up, and here's our review. "This is the book you wished Hillbilly Elegy could have been. Smarsh remembers her poor upbringing with a delicious, wistful ache. The book is not dipped in nostalgia, and it's not playing up the poorest Americans as pure-blooded saints, either. It's a canny observation of the way that macro-level systems can affect the tiniest portions of our lives — often without our even noticing. "

December: Winners Take All: The Elite Charade of Changing the World, by Anand Giridharadas.

Here's our wrap-up, and here's our review. "As robust as Winners Take All may be, it seems only the tip of the iceberg. By book's end, it was clear that Winners Take All offered just a glimpse into the influence of market-driven approaches to solving societal problems. Giridharadas claims to be something of a reformed MarketWorld participant, a born-again public servant perhaps. But I wonder which topics he excluded from the book, intentionally or not, courtesy of his own proximity to the subject. "
2020
January: Ten Arguments for Deleting Your Social Media Accounts Right Now, by Jaron Lanier.

Here's our wrap-up. "You've likely heard many of the arguments against social media, and you likely still use social media. Maybe you feel guilty about it. Perhaps you recall a time when you were off social media and you felt more relaxed and engaged and generally happier, but you still find yourself numbly refreshing your feeds, desperately looking for something new. The mechanics of this are simple meat and chemistry: the dopamine hits, the fear of missing out, the boredom of waiting in line at the grocery store. "

February: We Were Eight Years in Power, by Ta-Nehisi Coates.

Here's our wrap-up, and here's our review. "The absence of the grand imitation-Baldwin gesture in Coates's personal reflections make him an organic, fluid character in Eight Years in Power, one with the right voice to tell the complex story of Barack Obama's presidency and Coates's (and so many people in Black America's) failed waltz with the idea that America might be better than its grievous sins. For Coates, a hardscrabble wit from the streets of Baltimore, the reverie is short lived. Yet throughout the book, he doesn't discount it, or Obama's power or meaning to black people and the price they and he paid for Believing in White America far, far more than white America wanted to believe in them. "

March: Good and Mad: the Revolutionary Power of Women's Anger, by Rebecca Traister.

Here's our wrap-up. "We talked with admiration for Traister's remarkable book — Good and Mad rushed out of her in a handful of months, accompanied by a wave of catharsis that easily spreads to readers — and its many epiphanies. We discussed how the book ably identified the schism between white women and those who don't enjoy the same privilege as white women — women of color, LGBTQ women, disabled women. We talked about what it means to relax into your anger, and how that's freeing; that women who learn how to be okay with their anger do not broaden into a lifetime of anger. Instead, when you learn how to be angry in a healthy way, it removes anger from your life. "
What are you reading next?
Next month, the South Seattle Emerald takes over hosting duties; their first Reading Through It title is Ibram X. Kendi's How to Be an Antiracist, although please check in with Third Place Books to see if the group will go on, given the current social distancing due to coronavirus.